CALIFORNIA — In California, wildfires and heat waves in recent years forced utilities to shut off power to millions of homes and businesses. Now Texas is learning that deadly winter storms and intense cold can do the same.
The country's two largest states have taken very different approaches to managing their energy needs: Texas deregulated aggressively, letting the free market flourish, while California embraced environmental regulations. Yet the two states are confronting the same ominous reality: They may be woefully unprepared for the increasing frequency and severity of natural disasters caused by climate change.
Blackouts in Texas and California have revealed that power plants can be strained and knocked offline by the kind of extreme cold and hot weather that climate scientists have said will become more common as greenhouse gases build up in the atmosphere.
The problems in Texas and California highlight the challenge the Biden administration will face in modernizing the electricity system to run entirely on wind turbines, solar panels, batteries and other zero-emission technologies by 2035 — a goal that President Joe Biden set during the 2020 campaign.
The federal government and energy businesses may have to spend trillions of dollars to harden electricity grids against the threat posed by climate change and to move away from the fossil fuels responsible for the warming of the planet in the first place. These are not new ideas. Scholars have long warned that U.S. electricity grids, which are run regionally, will come under increasing strain and needed major upgrades.
"We really need to change our paradigm, particularly utilities, because they are becoming much more vulnerable to disaster," Najmedin Meshkati, an engineering professor at the University of Southern California, said about blackouts in Texas and California. "They need to always think about literally the worst-case scenario, because the worst case scenario is going to happen."
Meshkati, who served on National Academies committees that studied BP's Deepwater Horizon oil spill and the Fukushima nuclear disaster, said Biden should establish a commission to investigate the grid failures in Texas and California and recommend changes.
But it is not clear how much Biden will be able to accomplish, given the limited federal role in overseeing utilities, which are primarily regulated at the state level. He may not even be able to assemble a majority in Congress to advance an ambitious climate plan given the Democrats' narrow hold on the Senate and strong opposition from most Republicans to policies designed to reduce greenhouse gas emissions.
In California and Texas, conservatives have blamed renewable energy for blackouts even though energy experts, grid managers and utility executives have said outages at solar and wind farms played a smaller role than poor planning and problems with the natural gas supply and other power sources.
That Texas and California have been hardest hit makes clear that simplistic ideological explanations are often wrong. Texas, for example, has relied on market forces to balance its electric grid. If there is not enough supply, the price for electricity in its wholesale market shoots up, which is meant to encourage companies to produce more power and businesses and consumers to use less. California also has a power market, but it requires power producers to maintain excess capacity that can be called upon in emergencies. Yet both systems buckled in extreme conditions.
The common theme in the two states is that many traditional power plants are much more sensitive to temperature changes than the utility industry has acknowledged, said Jay Apt, co-director of the Carnegie Mellon Electricity Industry Center.
"Coal plants and gas plants have problems in both heat and cold," said Apt, who is also a professor at Carnegie Mellon University.
Last August, several power plants fired by natural gas stopped generating electricity as Californians were cranking up air conditioners, because equipment at the plants malfunctioned in the hot weather. Other plants were down for maintenance, which many experts found odd given that electricity demand typically peaks in the late summer.
Short of power just as demand was peaking, the California Independent System Operator, which manages the state's grid, ordered utilities to conduct rolling blackouts until the system achieved balance. The order came so abruptly that Gov. Gavin Newsom complained that the blackouts "occurred without prior warning or enough time for preparation."
Separately, California utilities have also shut off power to hundreds of thousands of customers in the last couple of years to prevent power lines and other equipment from starting fires during dry, windy days.
In Texas this week, many natural gas plants went offline or had to scale back operations because their equipment froze. Others could not generate as much power as they normally do because the pipelines that deliver gas to them were frozen or were not receiving enough gas from fields in the Permian Basin of West Texas and New Mexico, where operations were also hampered by below-freezing temperatures.
The electricity industry typically looks at average annual temperatures rather than seasonal ones. Changing the distribution of power sources based on the seasonal temperatures could help avoid electricity shortages. For example, nuclear plants generally function well in the cold but become vulnerable to heat because of the need for cooling water, Apt said.
Extreme temperatures should not have caught utilities and grid managers by surprise. Historical weather data has shown a clear increase in very hot summer days over the last few decades.
In addition, Apt pointed out that the United States had experienced five major cold snaps since 2011, including the polar vortex in 2014 that led to the shutdown of almost one-quarter of available electricity in the nation's largest energy market, PJM, which serves the Mid-Atlantic region. At some plants, coal mounds became unusable because they froze.
"These kinds of cold snaps are not particularly rare," Apt said. "A black swan event — an unknown unknown — it wasn't."
Some climate scientists think that a warming Arctic may be responsible for harsher winter storms even as winters are becoming milder overall.
The Edison Electric Institute, which represents investor-owned utilities, acknowledged that the industry faced numerous challenges but pointed out that much of its work is closely overseen by state and federal officials.
"It's important to reinforce that we are the most heavily regulated industry in the country, and how we serve customers is determined by the different rules and regulations set by federal and state regulators," said Brian Reil, a spokesperson for the group.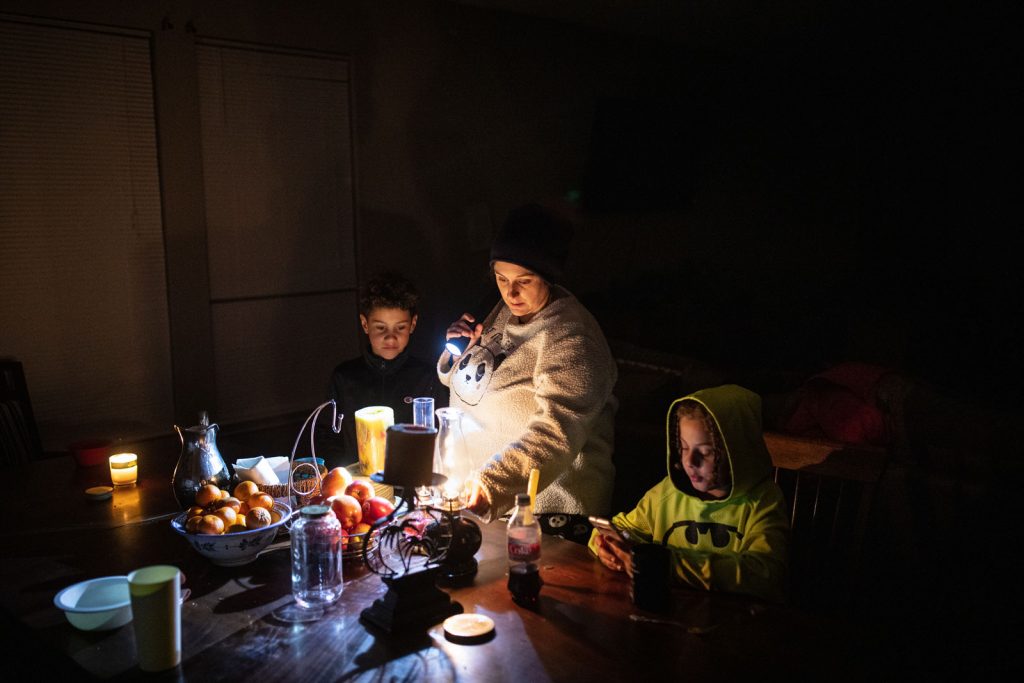 Pedro J. Pizarro, president and CEO of Edison International, the parent company of California's second-largest investor-owned utility, said no utility in Texas or California had anticipated the kinds of extreme weather that hit the two states.
"Let me start here and acknowledge that both the Texas event and the California event are really good examples that we are all living with climate change," Pizarro said. "Electric grid systems need to be able to deal with the new normal."
Pizarro said his company was adding to battery storage, which can help when demand spikes in extreme weather. California has also required its utilities to install more batteries, which generally deliver electricity more quickly than large power plants, though they do so for only a few hours at a time.
Lawmakers, residents and others have begun demanding a clear accounting of what went wrong this week, as they did in California last summer, and how another dayslong power crisis can be avoided.
Some of them have criticized the Electric Reliability Council of Texas, which manages the state's grid, for not doing more to require plants to prepare for freezing temperatures. To prevent more such failures, the council could learn from states in colder climates where power plants and other equipment is winterized with insulation and heaters.
Some potential fixes would be useful in Texas and California. Neither state appears to have enough capacity to make up for the gap between supply and demand during extreme weather. They may need to invest more in batteries and transmission lines to bring in power from other states. Texas has historically chosen not to have extensive links to other states, to avoid federal regulation.
States could also require some natural gas plants to be ready to ramp up quickly in an emergency, with enough gas stored on site to run for several days to avoid relying on pipelines. That reliance can be deadly, as Texas learned this week.
Some changes are already being made. In California, regulators had allowed some natural gas plants to shut down even though it was clear that the gap between supply and demand was narrow on the hottest summer days and in the late afternoon as the sun goes down and solar panels stop producing electricity. After the August blackouts, the California Public Utilities Commission delayed the closing of several natural gas power plants.
Dan Reicher, a founding director of the Steyer-Taylor Center for Energy Policy and Finance at Stanford University, said utilities, grid managers and regulators needed to become much better at planning for storms, heat waves and cold weather. "If we cannot get our act together with the U.S. grid, we're not going to solve the climate crisis."
Copyright 2021 The New York Times Company