MONTEREY COUNTY — Nonprofit Alliance of Monterey County, whose mission is to optimize the collective power of nonprofits for the benefit of Monterey County communities, has named Read to Me Project as the 2022 Outstanding Nonprofit Agency for Youth Development.
Since Read to Me Project (RtMP) was founded in 2011, more than 22,300 pre-K aged youth and fourth-, fifth- and sixth-grade students have received early literacy and reading fluency supports.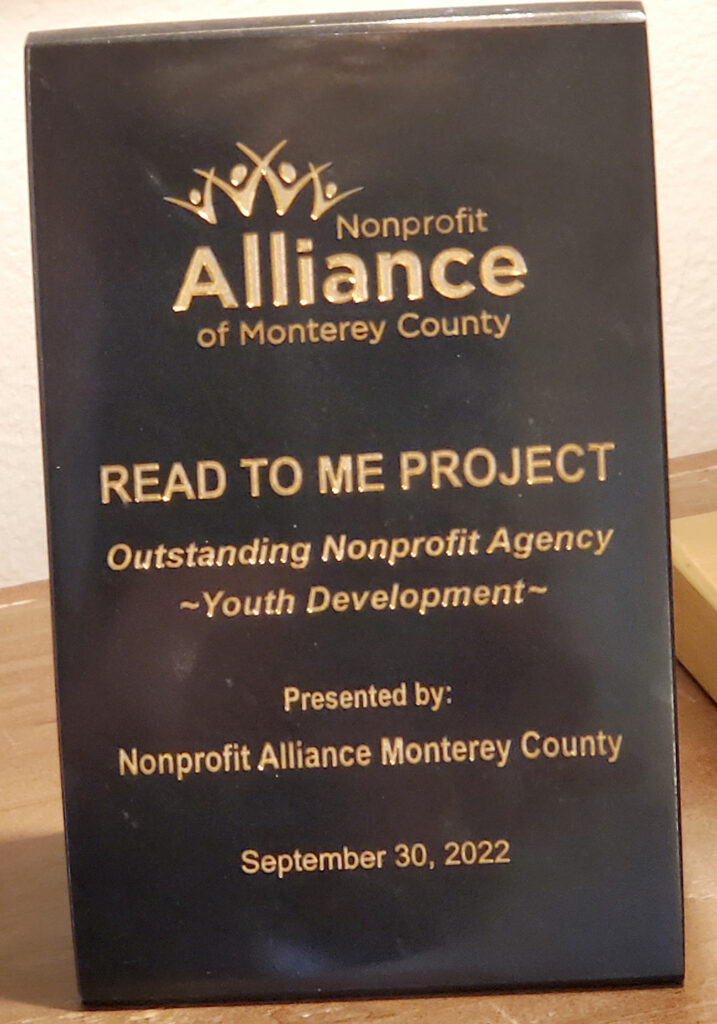 "The unique idea of training students to read aloud to their youngest family members using Read to Me Project's '9 Best Ways to Read to Young Children' develops a child's early literacy knowledge that is fundamental for learning how to read," said Development Director Mary De Groat.
While impacting preschoolers, students and their teachers report improved reading fluencies. In fact, a third-party study shows RtMP student scores improved on average by 68% on standard assessments compared to non-participating students.
In addition, RtMP's parent education program benefits low literate parents who attend Proyecto Léeme, La clave a la Oportunidad Infinita (Read to Me Project, The Key to Infinite Opportunity).
Collaborations with organizations with built-in access to underserved families include Door to Hope playgroups, Parents as Teachers, and King City and Greenfield union school districts.
South Monterey County Joint Union High School District, which includes King City and Greenfield high schools, is also contracting with RtMP to work with pregnant and parenting teens ages 14 to 18 as an accredited health class.
"Read to Me Project helps under-served children achieve kindergarten readiness and a lifetime of literacy by empowering school-age brothers and sisters to read to their young siblings at home," De Groat said.
RtMP provides children ages 6 months to 5 years in low-income, high-density neighborhoods with a foundation for language and learning by being read to by their fourth-, fifth- and sixth-grade siblings.
Students are taught how the brain works and that babies are born ready to learn. Through coaching sessions with RtMP staff, participating students learn how reading to their young family members sparks the child's brain and inspires curiosity.
"In those coaching sessions, the students themselves realize their own brains are sparking when they learn something new. The 'aha moment' showing on their faces is inspiring and encouraging them to want to learn in school," De Groat said.
For more information about Read to Me Project, visit readtomeproject.org or email [email protected].