MONTEREY COUNTY — Multiple branches within the Monterey County Free Libraries system have reopened with full hours, matching their pre-pandemic service hours.
The library's website, emcfl.org, has information about branch locations and their hours, since hours differ by site and some branches have not yet fully reopened. (View an infographic with local hours below.)
Gonzales Librarian Christopher Gallegos said it's important for patrons to check the county website, as each branch can be different from the others in terms of hours and services.
In addition to reopening hours, some branches will continue their curbside services. Electronic databases, references via phone and library-by-mail service also remain. Patrons can use the website or call 831-883-7555.
Librarian Robin Cauntay of the King City Library said patrons got used to curbside service, but they have begun adjusting to an in-person library again. She noted programming and meeting in groups in each library can vary, and those aspects aren't available in King City.
"It's been interesting, to say the least," Cauntay said of the reopening. "In the beginning, we had a bunch of people we'd never seen before, new people. A lot of our regulars were hesitant coming out, but they've been coming back and it's been positive here in the South."
Gonzales had a slow reopening leading up to the July announcement, having tried out Wednesdays only and expanding to Wednesdays and Thursdays only. The library had a checkpoint at the entry with hand sanitizer and a thermometer.
Now, the checkpoint is gone and the branch has full hours. Gallegos said patrons have been slow to return, but word of mouth is getting around.
"Since it's the first week, word is getting out and a lot of times word of mouth gets far," he said.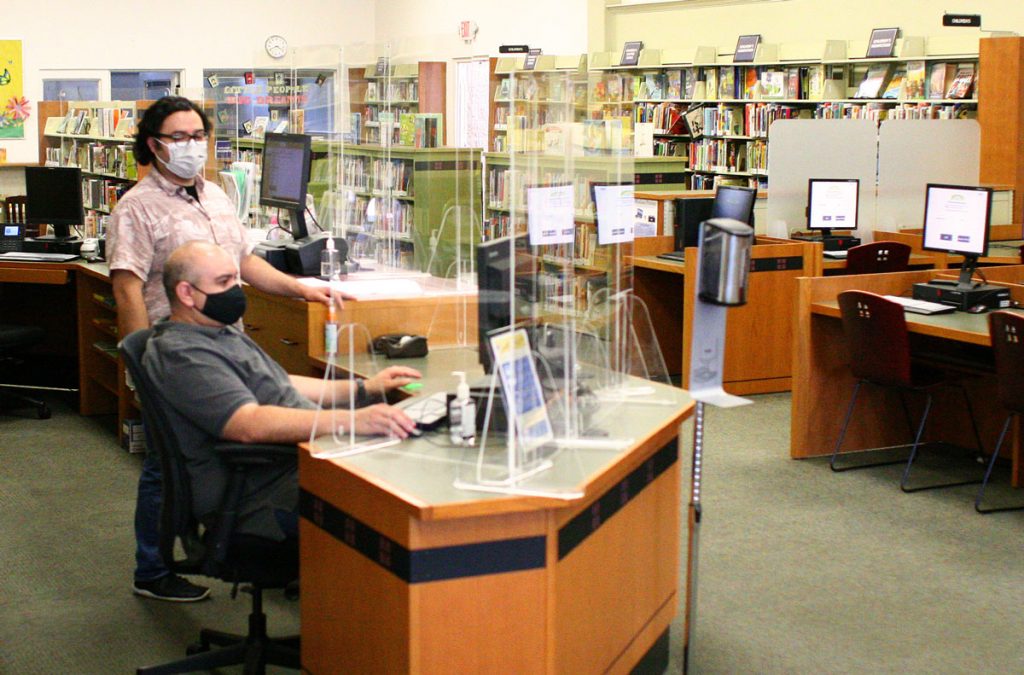 Library staff will continue to wear masks, but the choice to wear a mask is up to the patrons.
"All we can do is ask them if they're vaccinated, and if they say no, we can give them a mask," Cauntay said.
Gallegos called the process self-attestation.
"If you come in with no mask, that's you stating you're vaccinated," he said.
Overall, patrons have been cooperative and glad to be back, according to Cauntay.
General curbside service isn't something that will continue to be available in King City, as Cauntay noted many librarians enjoy offering it, but it comes down to staffing. Someone has to leave the desk to go to a person's car, which isn't practical with numerous patrons per day.
However, for people with special circumstances, such as those with disabilities, the elderly or those overburdened with children, library staff will accommodate with curbside service as they did in pre-pandemic times, Cauntay explained.
Reading saw an increase from Gallegos' perspective, as he said people were going through the library books more during the curbside-pickup era. With the return to in-person service, genres like adult and young adult fiction continue to remain popular.
The library's Summer Reading Program is currently ongoing, with readers able to sign up through the county website or by visiting their local branch.
"It's not quite up to speed as the last few years, but it is going good," Cauntay said.
In addition to summer reading, the library's virtual programming that was boosted during the pandemic continues.
Gallegos is one of multiple librarians who film content, himself teaching guitar lessons. Those programs can be found on YouTube and searching for "MCFL Virtual Programs."