GREENFIELD — Scheid Vineyards hosted an Earth Day tour of its Greenfield location in late April, sharing some of its growing practices in an attempt to make its wine production more environmentally friendly.
Founded in 1972, Scheid Vineyards has 3,200 acres with 40 different varieties that span the Salinas Valley, and recently shifted 1,500 of those acres to organic-certified processes.
"If you can stay away from putting material or chemicals on the soils, you don't do any damage to the microorganisms in the soil that feed the vines," said Kurt Gollnick, chief operating officer at Scheid. "I'm happy to announce to you today that we are 100% herbicide free. Everything we do, we do either mechanically or with heat."
Workers demonstrated Agrothermal equipment, which can be aimed at the ground at 900 degrees to burn away the waxy layers of weeds and thus kill the plant without herbicides, or it can be aimed at the vines at 300 degrees to reduce mildew and problem insects.
Gollnick explained taking care of different organisms, including insects, means the predatory populations would remain in place to hunt the problem insects. The same held true for larger creatures, such as encouraging eagles and coyotes to scour crops for squirrels.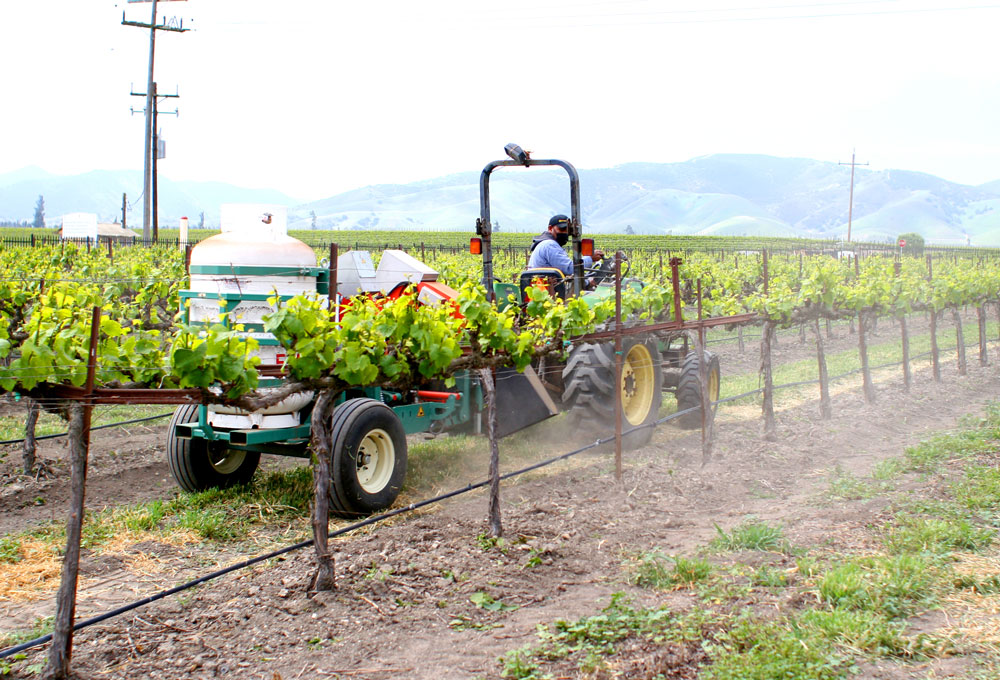 "You want to use chemistry only when you have to," said Elizabeth Dickson, a viticulturist.
Dickson discussed the process of evaluating problem creatures and seeing what can be done to encourage an increase in their natural predators. Pesticide is used on the crops, but the employees have taken measures to reduce that to as few applications as possible.
With an ecological approach, Dickson said such solutions as poisons or even blowing up creatures are not an option. She described what she called "Toolbox B," owls, raptors, coyotes, foxes and cats.
"Coyotes are something that a lot of growers don't particularly care for because they chew on your irrigation lines and they make a big mess," Dickson said. "Coyotes are something that we're trying to encourage into our vineyards and hopefully the big plan is to get a resident population. They may not get a bunch of squirrels, but they get enough."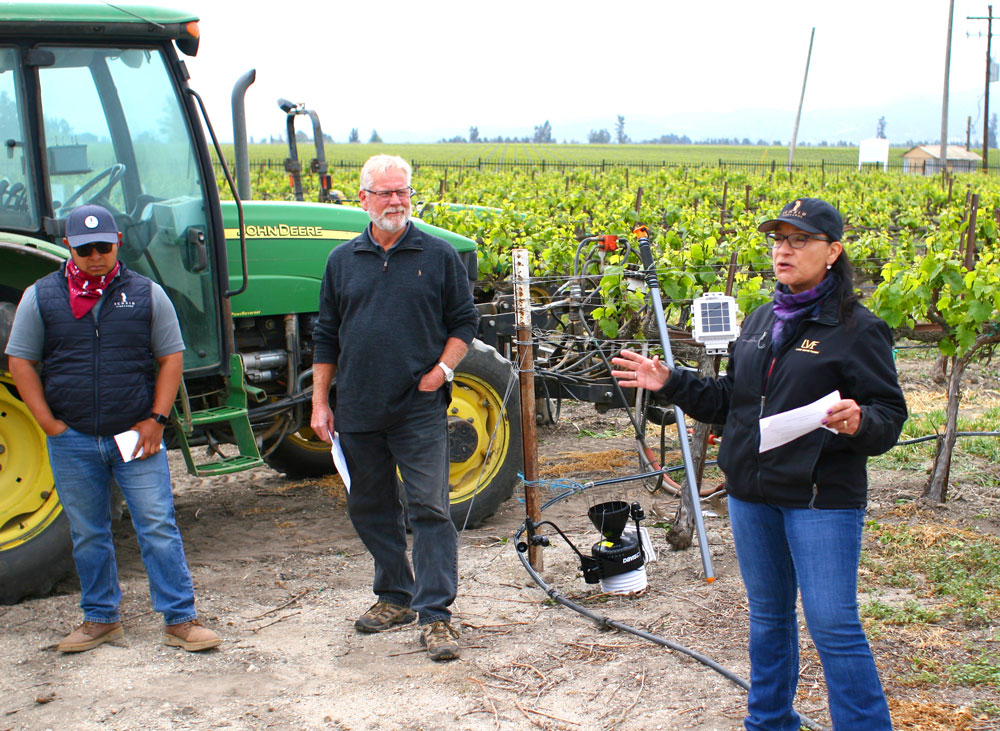 Different ranches have been used to test ideas, such as a raptor perch to encourage predatory birds, or boxes to get them to make a nest and live on site. Efforts have been successful with owls and eagles, and they are seeking other animals, such as bluebirds, to expand control efforts to problem insects.
"For us, part of sustainability is using what's around you to help," Dickson said.
Pest Control Adviser Domingo Uribe discussed insects and weed control. He said such commonsense practices around vineyards maintain a healthy vine and result cleaner fruit.
"Not every insect in our vineyard is against us or attacking the crop," Uribe said.
Uribe described the different pest pressures and how employees evaluate them and their life cycles to see what measures to take or chemicals to apply in an effort to be as efficient with control and not overuse chemicals when they're called for.
He explained the use of cover crops to encourage insect predators and showed off the Agrothermal heating systems. He said for the vineyards, the largest problems they battle are mealybugs, mites and mildew.
Assistant Supervisor Victor Arreola reviewed the use of sprinkler irrigation not only to water plants, but also to discourage pests and maintain protective warmth and humidity during nights with frost danger.
He explained the process of maintaining airflow around and within the vines to reduce the risk of mildew, a fungus that can threaten the plants.
Data Scientist Jovany Cruz went through the process of monitoring with weather stations in the ranches to ensure accurate, local data is collected, and how that data is used to respond to problems as they arise, whether they be poor water absorption by soil or frost dangers.
Cruz said with Scheid's properties stretching from near Chualar all the way to the southern reaches of the valley, different ranches could have varied situations and call for entirely different solutions, necessitating hyper-local data with weather stations.