KING CITY — Salinas Valley Fair is jumping "Back in the Saddle" this week, returning with many of its popular activities following a two-year hiatus caused by the Covid-19 pandemic.
"At long last we are 'Back in the Saddle' again," said Margaret Noroian, president of the Salinas Valley Fair. "We could not have imagined in March 2020 that it would be two years until we could get together with old friends and like-minded folks at the Salinas Valley Fair."
The 78th Annual Salinas Valley Fair begins Thursday, May 12, and continues through Sunday, May 15, at the Salinas Valley Fairgrounds, 625 Division St., in King City. Gates open at 11 a.m. until 10 p.m. daily, with the Fair closing at midnight Thursday through Saturday and at 10:30 p.m. Sunday.
"This year our theme is 'Back in the Saddle,' and we are jumping right back in with all of your favorite activities," said Lauren Hamilton, Salinas Valley Fair interim CEO. "The Fair will once again be filled with exhibitions like 4-H and FFA livestock, cookies, photos and so much more."
This year's exhibition program has expanded to include digital entries, such as speeches and FFA creed, as well as opening and closing ceremonies. Fairgoers can stop by any of the exhibition buildings or barns to view the exhibitors' submissions for local arts, crafts, baking, photos, flowers and other contests.
Live Entertainment
Alongside all the exhibits, there will be a full weekend of family-friendly activities and live entertainment. Special admission days include Kids Day on Thursday, Seniors Day on Friday and Armed Forces Day on Saturday.
Once again the carnival is back with all its thrilling rides and fun games, in addition to free entertainment that includes The Bird Man, Circus Imagination, petting zoo, music, balloons, violins, hypnotist, wrestling, rodeo and motor sports — to name a few. The Stampede Arena will feature new performances each day as well, along with a Kids Entertainment area.
Traditional fair foods, such as corn dogs, cotton candy, funnel cakes and giant cinnamon rolls, are also making a return alongside new food vendors.
"There are many new food vendors on grounds, so make sure you check them all out," Hamilton said.
During the Fair's opening night on Thursday, the Monterey International Wine Competition Grand Tasting will be held inside the Orradre Building. More than 400 guests are expected to taste award-winning wines from the 2022 competition.
"We are truly grateful for all of our exhibitors, sponsors and supporters and look forward to seeing you at this year's Salinas Valley Fair," Hamilton said.
Livestock Auction
This year's Salinas Valley Fair Junior Livestock Auction will take place live once again on Saturday, May 14, beginning at 8 a.m.
Due to the reduced number of animals in the 2022 auction, the Auction Committee has decided to make some adjustments to the species order. Goats and beef will run through prior to the lunch break in order to "keep this year's auction smooth and efficient."
"We apologize in advance for any inconvenience this may cause, but our hopes are that this will allow more time in the day to enjoy the additional offerings of the Salinas Valley Fair," the Auction Committee said.
Successful bidders will be donating to local 4-H and FFA exhibitors to help off-set the costs associated with raising the livestock, which includes goats, pigs, sheep and steers. Custom harvest is an option again with this year's sale, and add-ons will be open through May 23.
Heritage Animal
Salinas Valley Fair Heritage Foundation has named Wesley Hill, a senior at Salinas High School, as its 2022 Heritage Foundation Scholarship recipient.
"He is an outstanding recipient of the scholarship, and we are very proud to have him raise the Heritage Animal this year," said Maureen Harris, chair of the SVF Heritage Scholarship.
As the scholarship winner, Hill receives a $2,500 scholarship and a commemorative jacket and belt buckle, in addition to being reimbursed for all expenses associated with raising his market steer for this year's Fair.
All proceeds from the sale of his animal will benefit the Heritage Foundation and ongoing projects at the Salinas Valley Fair.
Hill, who serves as president of the Salinas High School FFA Chapter, is a member of San Benancio 4-H and is on the Monterey County 4-H Council. He is planning to attend Texas Christian University in the fall to study finance.
More information about the SVF Heritage Foundation and its scholarship will be available at the Fair in the Heritage Room and the Junior Livestock Office.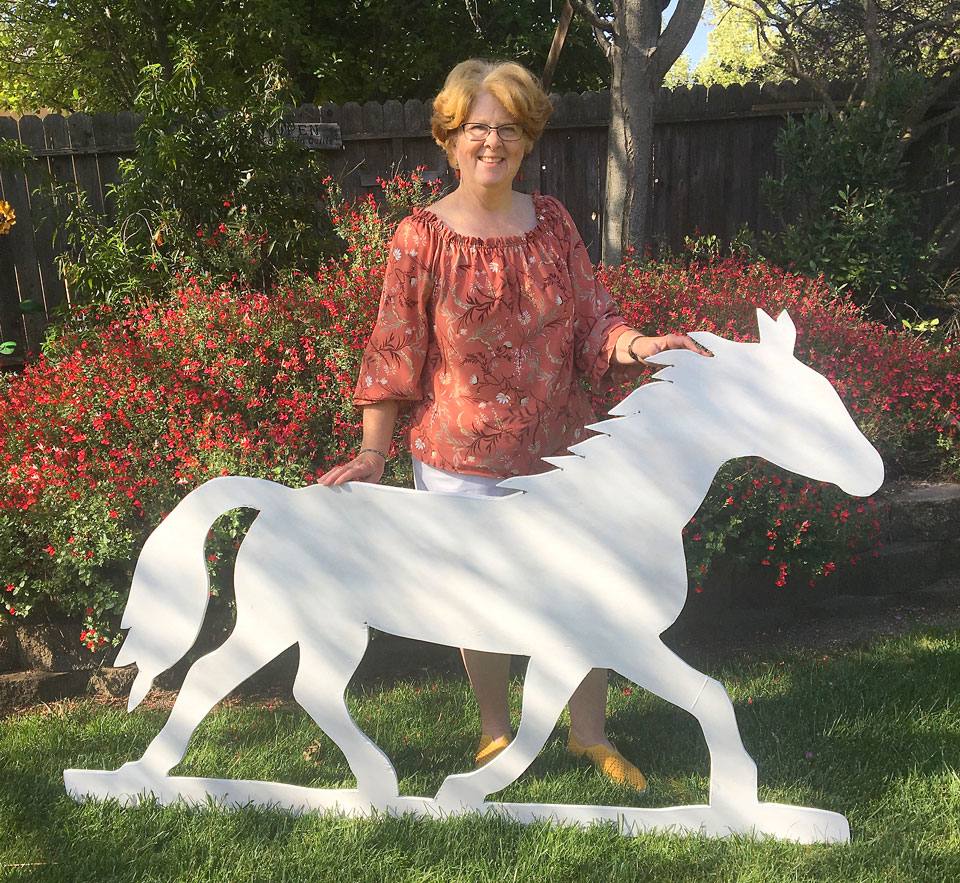 Painted Horses
In partnership with the Salinas Valley Fair, Sol Treasures in King City has spearheaded a project this year to help guests enjoy their fair experience even more.
Taking off from this year's "Back in the Saddle" theme, the art center designed and created 12 wooden horses for participating groups or individuals to paint with original designs and details. The finished horses will be featured and placed all around the fairgrounds for the entirety of the Fair, May 12-15.
When fairgoers enter the Fair, they will be given a map and ballot to help them find where all the horses have been corralled. After viewing the works of art, they will be able to vote for their favorite Painted Horse. Prizes will be awarded for the favorites.
Those who have worked on the horses are: Monterey County Agricultural and Rural Life Museum (Jane Allen, Nicole Villegas and interns Billie Jean Jackson, Elsy Hernandez-Montoya and Penelope Riley); Casey Redtail Ranch (Sharon Casey); Green's Accounting (Marcia Green); Barbara Plasket; Sun Street Centers (Darlene Hyland); John and Karen Jernigan and Soni Clark; Sol Treasures (Sonia Chapa and Brenda Settrini-Saglio); Valley Heritage Quilt Guild (Barbara Pekema); King City in Bloom (Andy Maness); Farmers Insurance (Rob Cullen and Vianka Ortega); Buttgereit, Pettit and Davis Insurance (Janet Buttgereit and Vianka Ortega); and La Cocina Open Air Market (Tina Lopez and Katie Mackin).
"Make sure you schedule some time to 'saddle up' and 'gallop on down' to the Salinas Valley Fair so you can find all the Painted Horses trotting around the fairgrounds," said project participant Barbara Pekema. "Vote for your favorite and wait to see which Painted Horse leads the herd."
---
For more information about the 78th Annual Salinas Valley Fair, go to salinasvalleyfair.com or call the Fair office at 831-385-3243.