KING CITY — Two King City residents pleaded guilty March 25 to attempted murder for discharging firearms as part of the Sureno street gang.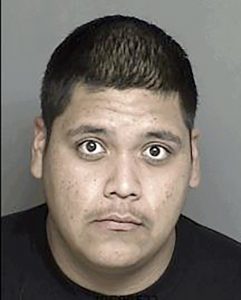 On Jan. 13, 2018, Heber Veronica, 23, and Francisco Martinez, 22, were traveling on San Antonio Drive in King City when they observed an SUV they thought was occupied by members of the rival street gang, Norteno. 
According to the Monterey County District Attorney's Office, Veronica and Martinez displayed gang signs and followed the SUV from San Antonio Drive onto Highway 101 northbound.
"The victims realized they could not out-run Veronica and Martinez and decided to turn around and head back to town," the DA's Office said in a news release. "Veronica, the driver, and Martinez, the front passenger, began shooting at the victim SUV striking it once."
As the SUV began traveling southbound, Veronica and Martinez continued to give chase. The victims were actively reporting to 9-1-1 as the shooting occurred, the DA's Office said.
A Monterey County Park Ranger heard the 9-1-1 broadcast and attempted to stop the suspects' vehicle. Veronica and Martinez exited Highway 101 at the Wild Horse offramp, where the ranger saw two handguns thrown from the passenger side of the vehicle.
Law enforcement later recovered two loaded handguns.
Monterey County Judge Mark E. Hood accepted the guilty pleas and will preside over the sentencing hearings on April 29. Veronica will be sentenced to 20 years in the California Department of Corrections and Rehabilitation and Martinez will receive 12 years.
The convictions are considered strikes under California's Three Strikes law.