SALINAS VALLEY — As local baseball and softball seasons approach the halfway mark, it's time to see how the South Monterey County teams performed last week.
Soledad Aztecs
After being named NorCal Baseball Player of the Week, Soledad's Eric Segura helped the Aztecs win three straight games. Segura is now 6-2 after throwing eight scoreless innings against Independence and North Salinas high schools.
The Aztecs started the week crushing Independence High, 18-1. That 18-run total wouldn't be matched, but in two games against North Salinas, the Soledad bats ended up scoring a total of 24 runs in their season sweep.
Jeremie Banuelos had two hits and drives in three runs in Soledad's sweep against North Salinas. Also of note, Daniel Raso continues to be one of the top leadoff hitters in the league, batting over 300 on the season.
After dropping three games, the Lady Aztecs needed a win to gain momentum. The girls got just that, scoring 13 runs to beat Monte Vista Christian, 13-9.
Soledad's Kyanna Medina had three hits in the win over MVC, and now has four home runs on the year. But it was Miranda Gonzalez who got the win to break the Aztecs' losing streak.
King City Mustangs
Since their home win over Soledad, the King City Mustangs have rattled off three straight wins.
This past week, the Mustangs dominated North Monterey County in two games, with the offense scoring 24 runs and the pitching staff only giving up two runs.
Ivan Lizardi had two hits and combined with Manuel Ochoa and Manuel Barcenas on a one-hitter.
Bryce Blair has won his last two outings on the mound. He also has been part of two one-hitters in the Mustangs' season sweep of NMC.
Coming off a win over Gonzales, the Lady Mustangs wanted to continue their momentum against Alisal. Just like most of their games this season, the girls' bats drove them to their second straight win, beating Alisal 10-7.
Sage Flores and Skila Reyes each have three hits and three runs. Lisa Villaneuva had two hits and three walks.
Greenfield Bruins
Coming off a two-game sweep of Marina, the Greenfield Bruins had to play Rancho San Juan, which is off to a great start. The Bruins played two close games against Rancho, but they came up short, falling 3-1 and 4-3.
Manuel Gutierrez continues to have a great season, striking out eight in seven innings and allowing just one earned run in Greenfield's loss to Rancho. Tony Pantoja pitched seven innings and struck out five in game two against Rancho.
The Lady Bruins are currently riding a four-game winning streak, and each game hasn't gone past the fifth inning.
The girls have ended their last four opponents by way of the 10 Run Rule, and their pitching continues to be dominant, only giving up nine runs in four games.
Linda Ornelas almost had a no-hitter against Marina, only giving up one hit and striking out 13.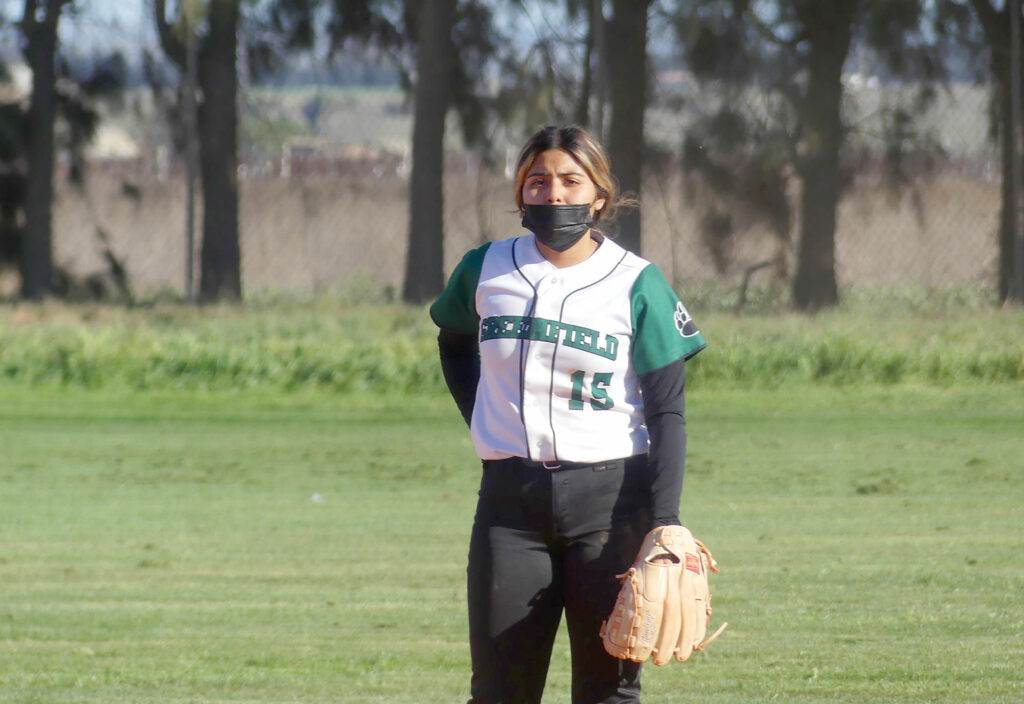 Gonzales Spartans
With the Gonzales Spartans baseball team off, the spotlight turned to the Lady Spartans, who only played one softball game this week.
The Lady Spartans traveled to Alisal, looking to bounce back after their loss to King City, but they dropped their second game in a row. Alisal won by a score of 8-1.
Of note was Gonzales' Alex Guerrero, who had seven strikeouts.