KING CITY — Severe winter storms have resulted in road closures, evacuation orders and water rescues over the past week due to major flooding throughout the South Monterey County region, with possibly more rain to come this weekend.
The latest storm, an atmospheric river, followed a "bomb cyclone" that lashed coastal California with heavy rains and hurricane-force winds beginning last Wednesday. Remnant showers continued through the weekend and flowed into the next pummeling rainfall on Monday and Tuesday.
In King City, evacuations were issued Monday for Villa Drive and the Grove Park mobile home park, as well as the King City Golf Course, due to "concerns regarding the potential for failure of an adjacent flood wall," resulting from portions of San Lorenzo Creek exceeding the bank, according to the City of King.
City staff were on site pumping water out of the street to help prevent any flooding of homes.
"It was a multiple-hour ordeal, but in the end, it was a successful operation," said Monterey County Supervisor Chris Lopez, who alongside Public Works crews, local volunteers and neighbors helped get the pump working to protect area homes. "As the creek has dropped, I want to thank the professionals throughout the county, from law enforcement to Water Resource Agency professionals and rescue workers, who saved lives today."
By Tuesday afternoon, residents of Villa Drive and Grove Park were able to return to their homes.
"City Public Works staff worked through the night to divert water from the street and homes as best as possible," the City of King said Tuesday.
An emergency shelter set up at the King City Recreation Center reached capacity by Monday afternoon, with 23 evacuees using the center that night. All programs at the Rec Center were canceled until Friday, Jan. 13, as well.
An additional emergency shelter was opened that afternoon at the Salinas Valley Fairgrounds' Pavilion in King City for residents in need of temporary shelter.
King City Library has been designated a temporary evacuation point during regular business hours from 8 a.m. to 5 p.m. at 402 Broadway St., where evacuees can receive resources and housing information.
Sandbags and sand were also available for residents at the King City Fire Station.
Evacuation notices
Also on Monday, Monterey County Sheriff's Office issued an evacuation warning for residents in the area surrounding San Lorenzo Park in King City, between San Lorenzo Park Road and Highway 101, as a result of flooding and the Salinas River rising from the storm.
In addition, evacuation orders were announced Tuesday morning for all low-lying areas of the Salinas River, as well as for residents of San Ardo due to flooding.
The Sheriff's Office also issued an evacuation order for low-lying areas of the Arroyo Seco River, including Sycamore Flat and Millers Ranch, west of Greenfield beginning Monday morning.
Later that day, the Sheriff's Office and the U.S. Coast Guard rescued two residents and their dog, who were trapped by flood waters on Arroyo Seco Road. They also received reports of possible subjects trapped under the Arroyo Seco Bridge, on the southbound side of Highway 101, but no subjects were located.
Greenfield Memorial Hall opened its doors Monday for any displaced residents until they could make other arrangements. The facility, which had limited resources, was not an overnight shelter.
"We will provide better long-term resource information at Memorial Hall for those who need it," said the Greenfield Fire Department on social media.
According to Maia Carroll, Monterey County's communications coordinator, an estimated 6,000 residents were under evacuation orders and another 1,200 were under warnings throughout the county as of 5 p.m. Monday. The emergency notices remained in place overnight and into Tuesday, when the number of residents impacted grew to an estimated 18,346 by noon.
"Please remain alert, pay attention to emergency messages, news reports and social media so that you can take action if needed," Carroll said Monday evening.
Additional closures
Flooding and mudslides forced a number of roads to close throughout Salinas Valley, including Arroyo Seco Road, Elm Avenue, Metz Road, Old Stage Road and River Road. Some intersections, such as at El Camino Real and Apple Avenue in Greenfield, closed as well due to flooding.
San Lorenzo Park in King City, along with Toro Park in Salinas and Lakes San Antonio and Nacimiento in South Monterey County, remained closed through at least Tuesday due to hazardous conditions. County staff plan to assess any damage before reopening the county parks.
Pinnacles National Park, east of Soledad, also closed Monday due to flooding from torrential downpours and high winds that created extremely hazardous conditions on park roads and trails.
"Having nearly exceeded our annual rainfall averages less than 10 days into the new year, most trail and road stream crossings are extremely swollen and moving quickly, and extremely strong wind gusts of up to 60 mph are causing rocks and trees to fall on roads and trails," according to the National Park Service. "With rainfall forecasted to increase and intensify and conditions expected to worsen, Pinnacles will close effective immediately until such hazards are mitigated."
The west entrance road was closed at the park gate, and entry by any means was not permitted.
"Trails are especially dangerous, with dozens of tree and rock falls, streams rushing over trails, and at least one bridge already compromised," the NPS said. "Roads in some places are flooded over and new road obstructions are occurring with increasing frequency. No trails anywhere in the park are open or permitted to visitation at this time."
The Campground on the east side, run by the Pinnacles Recreation Company, remained open to visitors with existing reservations; however, park trails and roads were still closed to everyone, campers included, beyond the campground.
Private levees break
Multiple private levees in South Monterey County breached on Tuesday, causing additional flooding into the Salinas River, which is already at high levels.
These private levees, located in at least five different areas, are not owned or maintained by Monterey County. Private owners or operators are responsible for managing their levees, floodwalls, pumping stations and other components of flood risk management systems.
The Sheriff's Office and emergency teams are responding to the incidents and "will do whatever is needed to ensure public safety," the County said in a news release Tuesday.
Evacuation orders were currently in place in the South Monterey County areas affected.
"We anticipate the effects of the levee breaks to be felt downriver later in the day," the County said. "Current flooding in many areas has gone beyond the 100-year flood plain."
Salinas River flows to the ocean north of where the private levees have failed. In certain areas where the river narrows, water is expected to increase in velocity and may be especially dangerous.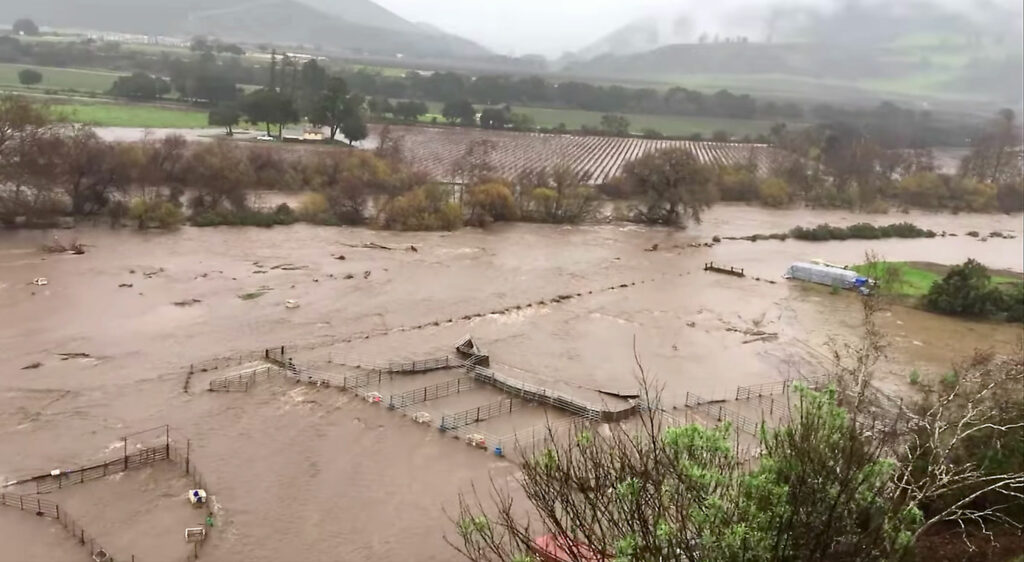 Emergency declaration
President Joe Biden has approved an emergency declaration for California, making federal disaster assistance available to the state to supplement state and local response efforts due to emergency conditions resulting from severe winter storms, flooding and mudslides, FEMA announced Monday.
"The President's action authorizes FEMA to coordinate all disaster relief efforts to alleviate the hardship and suffering caused by the emergency on the local population and to provide appropriate assistance to save lives," FEMA said.
FEMA is authorized to identify, mobilize and provide at its discretion, equipment and resources necessary to alleviate the impacts of the emergency. Emergency protective measures, including direct federal assistance under the public assistance program, will be provided at 75% federal funding.
In King City, City Manager Steve Adams issued a Proclamation of the Existence of a Local Emergency on Jan. 5 in response to the ongoing storm event. This followed State of Emergency declarations issued by Gov. Gavin Newsom and Monterey County Office of Emergency Services on Jan. 4.
"The purpose of the Proclamation is to ensure the City is eligible for reimbursement of the costs associated with these disaster preparation and response activities," Adams said.
King City Council was requested to ratify the Proclamation at its regularly scheduled meeting Tuesday evening, after press deadlines.