KING CITY — Once again the Salinas Valley Fair drew thousands of people to King City for a long weekend of family-friendly activities and entertainment, including its first-ever huge concert headlined by multiplatinum country singer Dylan Scott on Saturday night.
The 79th annual celebration featured the theme, "Barnyard May-Ham," and brought all the classic fun that fairgoers have come to expect over its four days of amusement, May 18-21, at the Salinas Valley Fairgrounds in King City.
"Thank you for your continued support of the Salinas Valley Fair," said Lauren Hamilton, Fair CEO. "We are truly grateful for all of our exhibitors, sponsors and supporters."
Along with various exhibits and commercial booths, the 2023 Fair was filled with carnival rides and games by Butler's Amusements, traditional fair foods like corn dogs, curly fries and giant cinnamon rolls, a petting zoo, pony rides and livestock from local 4-H and FFA members.
The Longbranch Saloon presented music from Joe Peters, Gotcha Covered and Lipstick Revolver, and the Steinbeck Stage included such entertainment as Violin on Fire, Pro Wrestling and Outlaw Mariachi, as well as a lineup of bands.
This year's Grand Tasting on Thursday night featured more than 50 wines, including winners of the annual Monterey Wine Competition.
But perhaps the highlight of the Salinas Valley Fair was the Junior Livestock Auction on Saturday, when months of hard work by young, aspiring ranchers and farmers culminated. Almost 800 4-H and FFA members raised livestock to be judged, graded and sold at this year's Fair.
Among the animals exhibited were market hogs, sheep, beef, goats, lambs, rabbits and poultry.
"Congratulations to all the young people from our community (who) had a successful year raising animals for the auction at the Salinas Valley Fair," said Monterey County Supervisor Chris Lopez. "The auction is one of the greatest opportunities to see our community in action. The investments made in these animals and our young people leads to college funds and investments in further futures in the field of agriculture."
Fair Auction Director Cody Bassetti oversaw the 75-plus volunteers who helped to sell the livestock raised by the young exhibitors. According to Bassetti, the annual auction brings together the efforts of volunteers and the generosity of many businesses.
"Learning to produce food for my table and how to be in business for myself — valuable lessons I learned as a 4-H and FFA member," Bassetti said. "Now, the volunteers and the auction buyers, we're all doing our part to ensure these lessons continue for kids in our community." 
Anahi Lopez, a senior at Salinas High School and president of Salinas FFA, was selected as the 2023 Salinas Valley Fair Heritage Foundation Scholarship Winner. As the recipient, she received a $2,500 scholarship and the honor of raising the Heritage Animal.
Her hog, Chilandra, was auctioned off at the Fair to benefit the Heritage Foundation.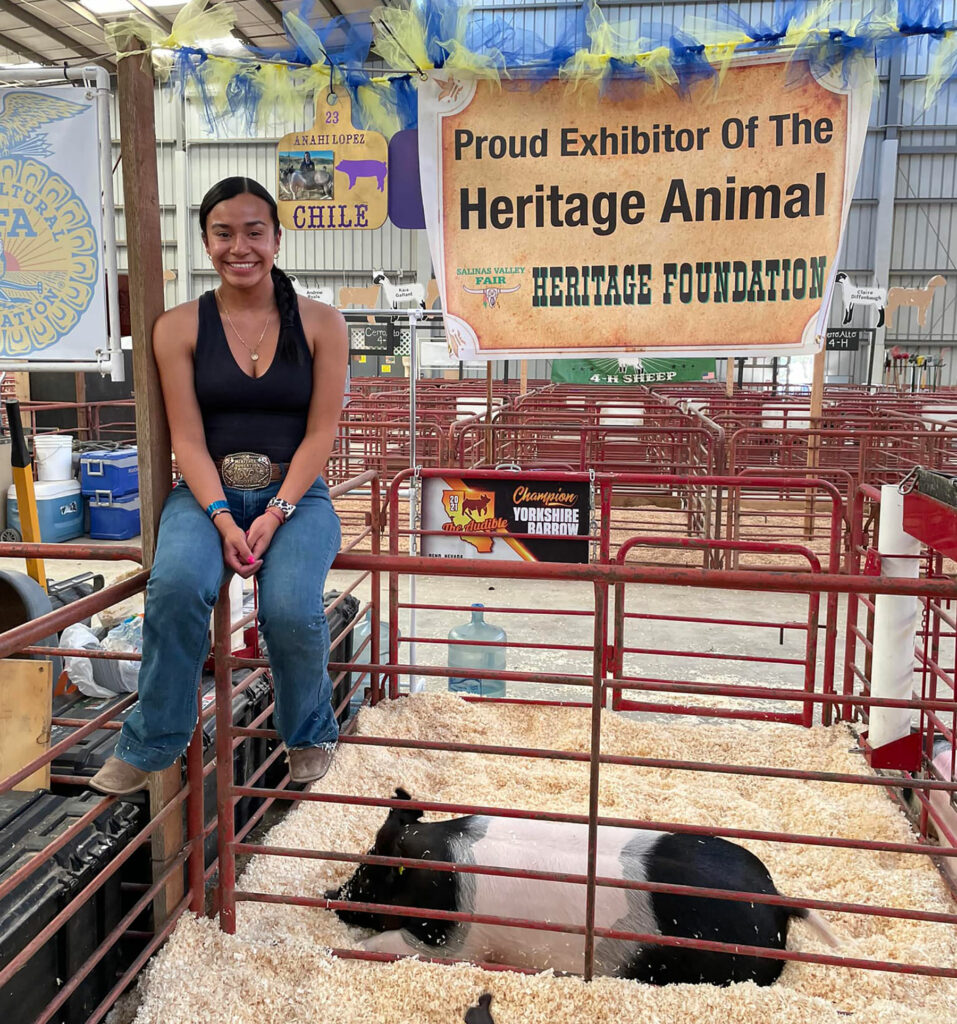 Over the past 19 years, the sale of the Heritage Animal has contributed more than $1 million to the Heritage Foundation. Since the Orradre Building revitalization project has been completed, the Heritage Foundation continues to work on various fair improvement projects.
"Our volunteers, donors and buyers really make the difference," said John Orradre, chair of the Livestock Committee. "Every year something special, surprising, takes place to remind me we have a good thing going in King City."
Auction totals were not available at press time Tuesday; however, bidders may continue to submit add-ons until Monday, May 29. Call 831-385-3521 or email [email protected] for more information.
"Thank you to the Fair's Board of Directors, the Fair's great staff and all of our volunteers," said Frank Lopez, Fair Board president. "On behalf of the Fair and its Board of Directors, thank you for your continued support."