KING CITY — John and Karen Jernigan have teamed up with Howard Strohn to write a history book about King City, "Images of America: King City," which was released July 25.
The Jernigans, longtime residents of King City, worked with Strohn, from Priest Valley, for more than a year to put together a collection of 200 photos with captions full of historical information in the 128-page book published by Arcadia Publishing, covering the city's history from 1886 through the 1970s.
"We want people to have a greater appreciation for where they live," Karen Jernigan said of the purpose behind the book. "… It gives more meaning to your surroundings to know something about what was there before and the people that were there and the stories about those people."
John Jernigan added, "The farming, the mining, all the stuff that's gone on around King City, it's an amazing story."
The Jernigans met Strohn at the King City Library when he was researching microfilm documents, and said they were impressed with his work.
"Howard is by far the most knowledgeable person of South County that I know of," John Jernigan said.
With Strohn being in his 80s and living in an area with limited internet access, his handwritten notes provided the backbone of the team's information. John Jernigan worked on the digital side of the project and oversaw photos, including scanning large glass negatives, a form of photography that predated compact film negative technology. Karen Jernigan wrote the captions and was the primary editor.
"With the combination of his knowledge, Karen's writing ability and editing ability, and my ability to do the pictures, it was a trifecta and perfect match," John Jernigan said.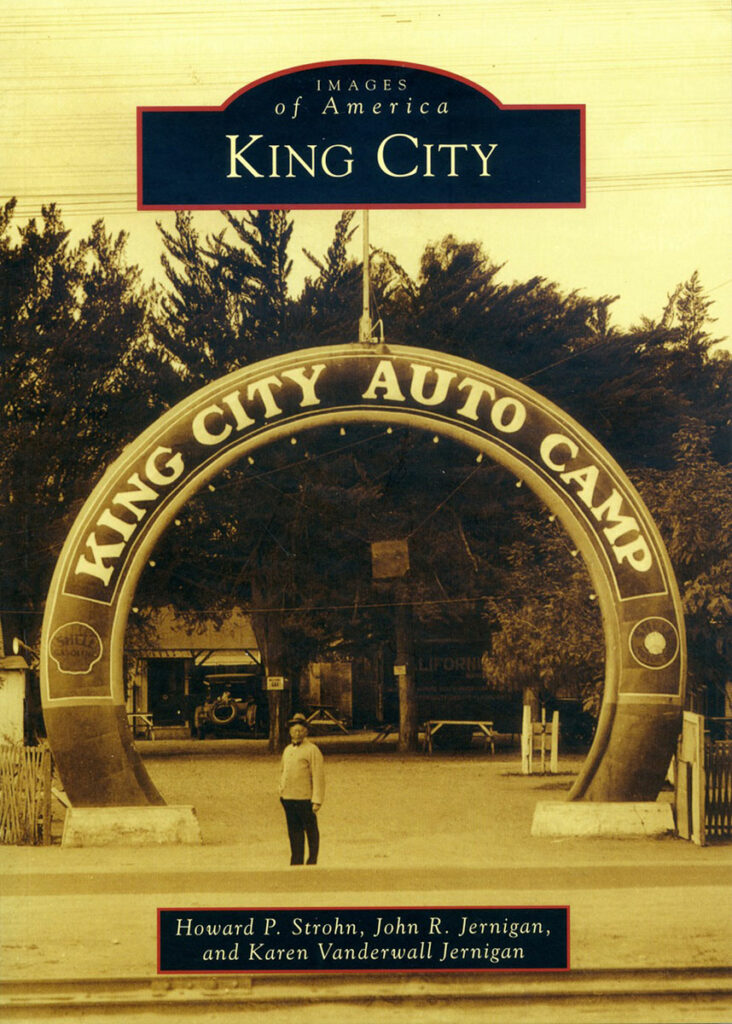 The work began in November 2020, during which the trio met weekly. The Jernigans would select photos and review the selection with Strohn, who would then do the research for caption notes, and then Karen would write them.
They originally selected 250 photos, but had to narrow down to 200 for the book, which the Jernigans said was tough as everyone had favorites in the rejected images.
The trio worked with a team of 40 proofreaders to help make sure everything was accurate, from area English teachers to locals familiar with the history of areas in and around King City.
Some surprises the Jernigans said they found related to changing business needs as technology or routes shifted. Highway 101 used to run through King City, meaning highway traffic passed along Broadway, giving rise to many more gas stations than are seen in the modern version of the street. However, the book's cover image showing a giant tire used as a sign for a place called King City Auto Camp gave rise to finding out just what it referred to.
"Auto camps were very popular because a freeway ran through the city and people would stop and spend the night," Karen Jernigan said. "Right next to each room would be a place where you could pull your car in."
"In those early years, a lot of the cars did not have tops," added John Jernigan, explaining the spots for cars were protected from weather to entice guests to stay overnight.
Another lodging curiosity was the term "sample room."
"There were some advertisements and articles about hotels having sample rooms," John Jernigan explained. "What it was, they had specific rooms that allowed you to put your samples out because they were traveling salesmen."
They also noted "livery stables" as an interesting term, from early in the town's history when horses were frequently used for transportation.
"To think there were stables for horses in downtown is something new to me," Karen Jernigan said.
Ad material also led to discovering another shift in markets, as John Jernigan noted advertisements for daily oysters, provided from the daily railroad delivery from San Francisco.
"I can't get them in King City today, but the train came by everyday and brought them from San Francisco," he said.
Other historical quirks found in the book include the sorting of W. J. Hamilton and W. C. Hamilton, who both lived in King City at the same time, and were often mixed up. Property one owned would be confused for the other. But, biggest of all to the Jernigans was clearing up precisely which one was related to author John Steinbeck.
Research for the project included not only Strohn's expertise, including his indexing of local newspapers from 1901 through 1950, as well as information from the county recorder's office and assessor's office. They also scoured old newspapers and searched around the internet for photos.
Part of their research included obtaining negatives from Georgia to scan. The Jernigans said the foundation of that work was Strohn's knowledge.
"There are things in our book, addresses and names, that there's virtually nobody else in this world that knows them but Howard because he has read and can somehow retain them," John Jernigan said.
The Jernigans had a few tips for beginning historians as they pursue research and publication.
"Keep track of addresses," said Karen Jernigan, explaining the ability to find places based on an address is more helpful to the next historian down the line rather than saying a location is near a shop or landmark, which might not exist in the future. She also reminded historians to keep track of the dates of their notes and sources.
John Jernigan recommended historians keep track of where they got all their information. If one needs to go back to a source, or assist someone else with information from a source they've researched, it's a much smoother process when the precise source has been noted.
John Jernigan is now working on YouTube channels, such as side-to-side videos showing historical pictures next to modern views of the same location. The Jernigans also plan to help the King City Chamber of Commerce and Agriculture with the history portion of its upcoming visitor's center.
Copies of the new book are available locally at Sol Treasures, 519 Broadway St., and at the Monterey County Agricultural and Rural Life Museum at San Lorenzo Park in King City.