KING CITY — Board members of the Southern Monterey County Center for the Performing Arts recently unveiled two new pieces of art at the historic Robert Stanton Theater in King City.
One of the pieces is sculptor Jo Mora's original design sketches for the nine-panel bas-relief that adorns the building's facade. The other artwork is a plein-air rendering of Mora's sculptures by local artist Katie Mackin.
Both pieces are now on display inside the lobby of the theater, also known as the King City High School Auditorium, following the Dec. 12 dedication and unveiling ceremony.
"If you, as I do, hold this building to be King City's crown, then I'm pleased and proud to say that our group has added two lustrous jewels to that crown: Katie Mackin's plein-air rendering of the entrance facade and Jo Mora's original design sketches of the facade," said Robert Walton, president of SoMoCo Center for the Performing Arts, in his welcoming remarks.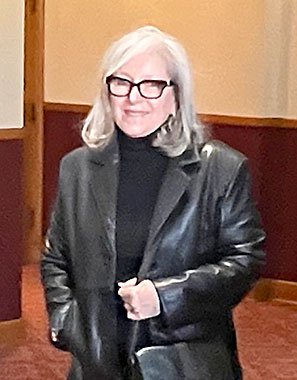 In addition to Mackin and her husband Bob, others present at the Monday afternoon celebration included Mayor Mike LeBarre, KCHS Principal Michael Gray, South Monterey County Joint Union High School District board members Leslie Girard and Linda Benway, and special guests Janice Darcy, Jeane Errea, Phyllis Walton and Steve Wilson.
SoMoCo Center for the Performing Arts president emeritus Jan Harkness and board members Dorothy Errea, Miguel Errea, Lincoln Hatch, Jeff Hinderscheid, Raye Ann Houx, Steve Schmidt and Teri Storelli were also in attendance.
Walton gave special recognition to Schmidt for supervising the revision of the Mora sketches and John Jernigan for installing both pieces of art. The brief ceremony ended with the unveiling of the artwork and taking a group photo with Mackin outside the theater.
"On behalf of the board members of SoMoCo Center for the Performing Arts, I'm happy that all of you could join us for this celebration of fine art," Walton said.