KING CITY — Monterey County Office of Education (MCOE) has recognized three South Monterey County school employees, including two from King City, for their outstanding teaching skills.
Tiffany Lewis and Milton Hambly, both teachers in the King City Union School District, and Araceli Godinez, instructional aid in the San Lucas Union School District, are among this year's Monterey County Teacher of the Year award winners and were recently honored by County Superintendent of Schools Deneen Guss for this achievement.
All three winners received a monetary award, courtesy of Chevron.
Lewis, who teaches at Del Rey Elementary School in King City, is the MCOE Countywide Teacher of the Year in the elementary school category. She was also selected as the overall Teacher of the Year nominee and will represent Monterey County as she competes for 2024 California Teacher of the Year.
"Ms. Lewis believes that her struggles in school, along with the amazing teachers that she had in her life have taught her to be the perseverant person that she is today," MCOE officials said. "She understands that some people struggle with things more than others and that is perfectly fine. Ms. Lewis tries her absolute best to make sure her students hold these values as well."
According to MCOE, Lewis believes in the value of the word "team," and she does everything in her power to help her students succeed. She feels that her greatest contribution to being a teacher is her belief that all students have the ability to learn and grow no matter where they begin when entering a classroom.
"It is Ms. Lewis' belief that students learn best when they are in a safe and loving environment," MCOE officials said. "She feels it is important that we think about the whole child, rather than only the academic part of them, and that teachers building healthy relationships with their students is the most important part of teaching. Ms. Lewis gets to know her students' backgrounds, needs, interests and learning styles, which helps them learn to the best of their ability."
Hambly, who teaches history at Chalone Peaks Middle School in King City, is the MCOE Countywide Teacher of the Year in the middle school category. He was nominated because of his "exceptional and effective teaching skills," according to MCOE.
"His philosophy on teaching is to have an inspiring classroom with high academic expectations while enforcing school rules and policies," MCOE officials said. "He believes history is the perfect subject for a fun-filled learning experience and provides valuable lessons."
As the school's history teacher, Hambly shares exciting historical events and connects these stories to endeavors that will shape his students' daily lives. He makes sure he remains a very approachable person who students are able to have conversations with about their school work or their lives.
"Mr. Hambly knows that ensuring student success takes many different forms in the classroom, and says that students must feel like they are able to talk to their teacher to be successful," MCOE officials said.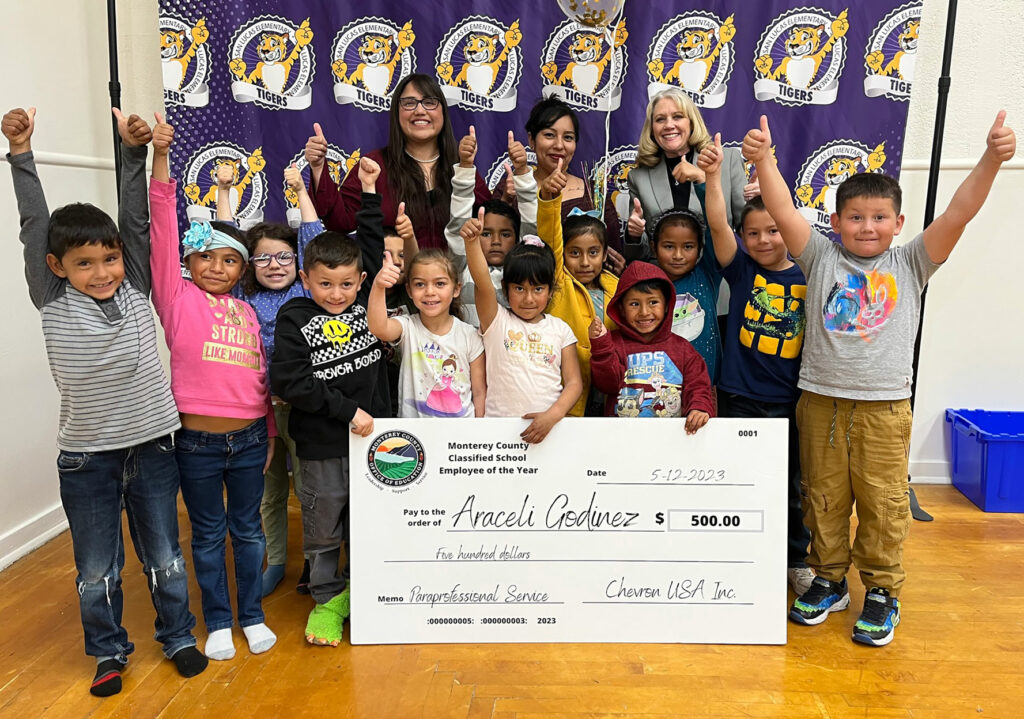 Godinez, who is the instructional aid for the K-1 classroom and special education aid at San Lucas Elementary School in San Lucas, is the MCOE Countywide Classified School Employee of the Year in the paraprofessional services category.
According to MCOE, Godinez was nominated for her "dedication to improving the social, emotional, linguistic and academic outcomes of young learners." She maintains a positive attitude and uses English and Spanish to facilitate feelings of comfort and safety in her students' learning environment.
"Araceli's top focus for her high-needs non-verbal students is to help them fit in with their peers and teach them to independently succeed at numerous life skills," MCOE officials said. "We thank Araceli for the love and care that she brings to her classroom each and every day."